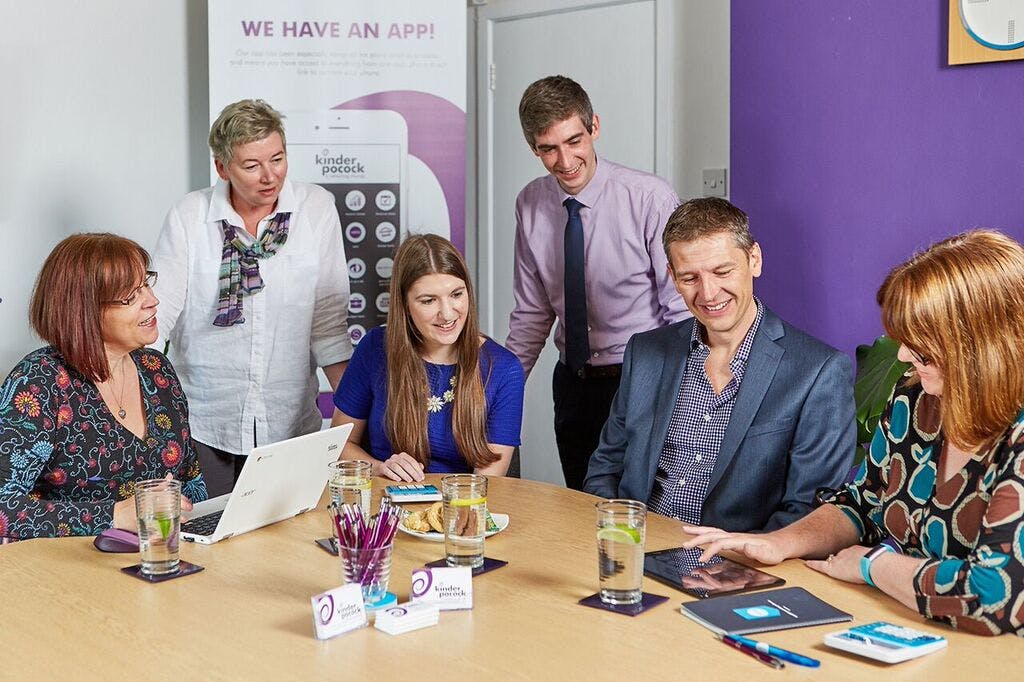 Kinder Pocock is an online accountancy firm and Xero Partner, based in Hereford. Sharon Pocock, founder of the practice, is a real advocate for online working and the opportunity it brings to deliver a more personal kind of business support to her firm's business clients.
We sat down with Sharon to find out how Xero and online accounting came into her life, and how GoCardless has opened up new ways to help her valued clients.
The friendly face of online accounting
As Xero UK's Most Valued Professional of 2016, Sharon's a shining example of how to combine incredible customer service with the best in online financial and business technology.
Sharon comes from a fairly traditional accounting background and had originally established Kinder Pocock as a practice back in 2005. But in 2012, Sharon discovered Xero online accounting and made the switch to become a cloud practice, bringing the benefits of online working to her growing client base.
Sharon's keen, however, to point out that being tech-savvy isn't their sole selling point. For her, trusted client relationships, helpful support and a friendly face are all just as vital.
"We say to clients that we'll automate their businesses and free their time up – and the software's a big part of that. But we're also friendly and not stuffy in the way that some traditional accountants can be.
People have come to us because they know we're user-friendly, speak on their terms and are easy to get along with. We become friends, really, and that's always been the driver, with the online tools helping us with all of that."
GoCardless, automation and a more streamlined practice
Sharon's mantra at Kinder Pocock is 'If you can automate it, automate it!' and that's been a key benefit of having GoCardless in place to automate their collection of fees and reconcile everything directly in their own Xero accounts.
We first started using GoCardless in January 2013. Once you have it in place it's like you've always had it – it's central to our processes and how we collect our own fees now.
Late payment wasn't a specific problem for the firm. Fees we're usually paid via bank transfer, cheque, or the odd cash payment in the early days, but Sharon could see that the time spent on cash collection, banking admin and chasing the occasional late invoice was holding back the efficiency of the practice – and that desire for automation led her to GoCardless.
"Having GoCardless really streamlines the whole process of collecting cash – it happens in the background automatically and we don't really notice.
I know that on a certain day in the month that the bulk of our monthly billing will be deposited in our bank account. So it's the reassurance, in terms of cash flow, but also the huge amount of time it saves with all the admin and chasing processes that don't need to happen anymore."
Helping clients tackle cash flow with GoCardless
Having seen first-hand how GoCardless has helped provide positive cash flow for the practice, Sharon's always eager to share the benefits of GoCardless and Direct Debit with her clients.
The apps that we can best recommend are those we use ourselves. GoCardless is an integral part of our processes, and because it's so good we promote it to our clients as well. It's definitely in our arsenal of useful solutions that we recommend to clients."
"When I'm talking to clients about payment and cash flow, I'll usually talk about using GoCardless and Chaser together, with GoCardless making sure payments come through more predictably and Chaser automatically chasing up any possible debt. Chaser emails the customer with a link to the payment button in Xero, which has all the GoCardless payment information.
It's the benefit of having cash in the bank quicker that's the real decider. It's also ideal for clients that take deposits and stage payments; e.g. clients of ours that run events, or weddings etc. Previously they'd have waited for the customer to pay, and were not in control of payment at all.
This combination of Xero, GoCardless and Chaser is going to get them paid much quicker, they don't have to chase up late-paying customers and their customers don't have to worry about it either, as payment will be taken automatically."
Becoming an advocate for online working
Sharon's enthusiasm for online working and desire to 'do things better' certainly transfers across to Kinder Pocock's clients – something that's been a key driver behind their ongoing growth.
"People do sometimes laugh at me because I get so enthusiastic about cloud and Xero etc, but that enthusiasm does translate across to your clients. The technology has really changed our business – it's a joy to be involved in and it does make our work a lot more fun!
Even the visual aspect of how pleasing systems like Xero and GoCardless look is part of the attraction, as well as how helpful the support teams are and how easy it is to get the processes in place. Once everything's set up, you're not even aware that some of the processes are happening – it just happens, as if by magic."
The future for Kinder Pocock
So what does the future hold for Kinder Pocock? How does Sharon see her cloud practice evolving and growing over the next few years?
"The main aim for us in the coming years is to move more into the advisory space. We've got all these really good software apps, like Xero, Receipt Bank, GoCardless, Chaser and Spotlight, that help us add more value for clients. And we also have a selection of advisory tools we use with clients to help drive their strategic planning and performance… things like our 'Strategy & Targets' chart for pinning down business owner's personal and professional aspirations, and our one-page business plan, that clients love. As an accountant that's really the fun bit of being an advisor – seeing that you're making a difference to businesses.
We're growing all the time, and I do have plans to get a few more staff on board, but the main thing for us to keep up to date with the technology and apps and to use them to enhance our advisory work – that's what business owners want, after all: someone with an accounting brain who gives them the advice and personal support they need."