The Business Development Interview Process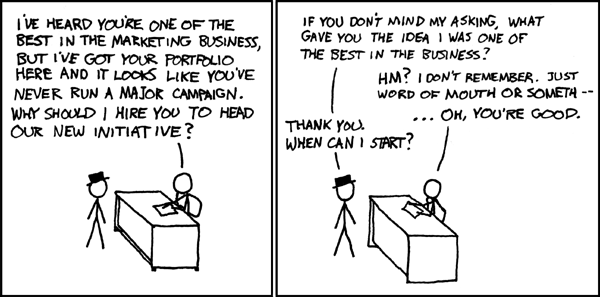 Image courtesy of XKCD, via a Creative Commons license
GoCardless is poised for global success, and we need people to help us achieve our vision of building a payment network that makes it simple to move money across the globe. To help us grow, we're looking for systematic problem-solvers to join our business development team. This post is a guide to the application process for the business development position. Above all, we want you to succeed, which is why we're going to explain in detail how the process works and what we're looking for.
Have you seen our amazing new How to page?
If you'd like to find out more about using GoCardless or have signed up and need a little extra help getting started check out our fantastic new how-to page.
Two of our product specialists, Ben and Ricky, have put together eight short videos (the longest is just 2 minutes!) which walk you through every step of the process from trying out GoCardless to taking payments and handling reports.
In this video, Ricky gives you a brief introduction to GoCardless, our dashboard and some of the features and benefits.
In this video, Ben takes you step by step through how you can test GoCardless to find out if it's the right choice for your business.
To collect Direct Debit payments you need your customer to authorise you first. In this video, Ben walks you through how to get authorisations from your customers.
In this video, Ben shows you how to take a one-off or recurring payment from an individual customer.
In this video Ben shows you our online mandate and briefly outlines the benefits of online Direct Debit over traditional paper forms.
One of the key features of the GoCardless Dashboard is the ability to create custom plans for recurring payments. In this video, Ben takes you step by step through setting up recurring payments and payment plans for multiple customers.
In this video, Ben shows you how to take payments from hundreds of customers at once by simply uploading a CSV file and using our bulk import tool.
In this video, Ben walks you through how our reporting works and shows you how to track payment statuses in real time.
Any questions? Get in touch with help@gocardless.com.
Want to find out more about GoCardless?
Our new SEPA Direct Debit guide
As the implementation deadline draws nearer, a lot of questions our customers are asking us are, unsurprisingly, about SEPA Direct Debit.
SEPA Direct Debit offers businesses in the UK, and the rest of SEPA, an amazing opportunity to access new markets by making it cheaper and easier to collect Euro-denominated payments from across Europe.
As it's such a new system there's very little information about it available. And to make matters worse – what is available is generally complicated and not aimed at small businesses. The EPC's scheme rule book provides a lot of information but at 260 pages it isn't exactly a light read.
To make things a little easier, last month we published our new SEPA Direct Debit guide. This 50 page guide walks you through the essentials of SEPA Direct Debit, including:
Find out more about how SEPA Direct Debit works