With a background in executive positions in both local and central government, and the NHS, Yorkshire Energy CEO Annie Faulder understands how building a strong culture around shared values is vital for any business that wants to make a mark in its industry. The mission for the Leeds-based energy startup, launched in early 2018 after a period of careful groundwork-laying, is well known by its 40+ team members and felt by its entire customer base:
Everything we do at Yorkshire Energy has to make us fair, hassle-free, sustainable and innovative. We want to change the relationship between energy suppliers and customers."
These values are more than mere buzzwords. Yorkshire Energy's electricity is sourced solely from wind power, 90% of the team commute to their city-centre office by foot, by cycling or on public transport, and the company passes on efficiency savings to its tens of thousands of customers.
Fair and hassle-free payments
In the run-up to launch, Annie recognised the need for a way to take recurring payments that met all of its core values.
We spoke to five different payment providers. It was the flexibility and patience the team at GoCardless showed, along with their desire to help us achieve the most from any future partnership, which helped us choose."
After a more detailed look at exactly how GoCardless would work, Yorkshire Energy was confident in its ability to reliably collect payments at scale, easily send customers payment-related communications, all while using their own recognisable branding at every touchpoint. 
Having decided on GoCardless, the next step for Yorkshire Energy was to have the platform fully up and running. Even with the positive relationship so far, Annie was surprised by the speed of the API integration.
It took just two days to be fully operational. GoCardless was up and running before we had even noticed."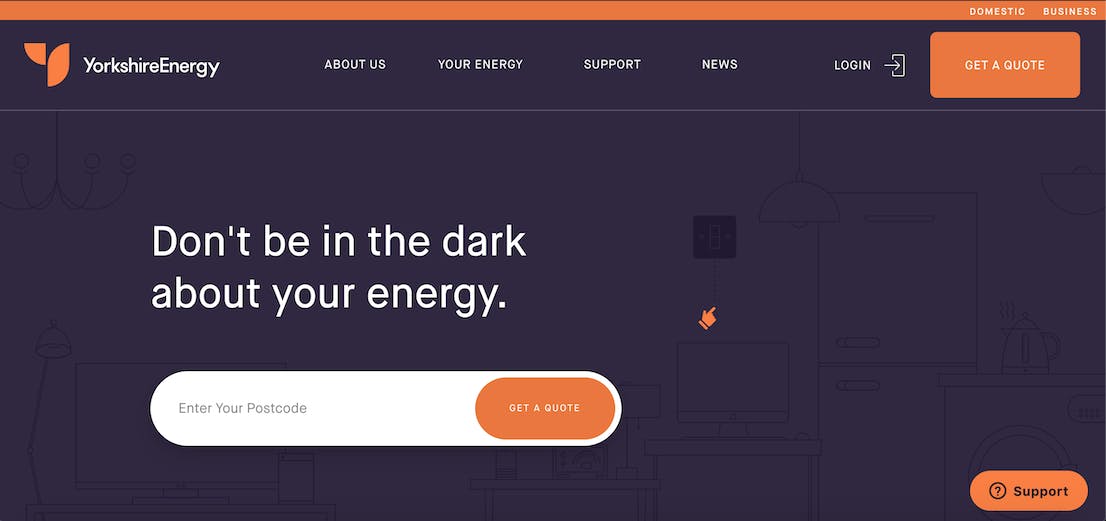 Payment and billing processes for customers and team members alike
As well as the hard-and-fast payment success metrics, Yorkshire Energy is also seeing several other benefits by using GoCardless. 
We're adding an average of 1,500 customers every month, with 100% of them using GoCardless. We're confident that GoCardless can continue to comfortably handle all of our payment needs no matter how much we continue to grow."
The business has a small team looking after customer billing, and their time spent actively using the GoCardless portal amounts to a mere one hour a week. While Yorkshire Energy places a huge emphasis on the billing experience, Damian explains the lack of time chasing and reconciling payments allows them to focus on the long-term:
The systems provided by GoCardless give us clear visibility on cash flow and payments into the business. The daily reports are reliable and easy to read, enabling our team to spend time growing the business rather than cross-checking payments."
Constantly evolving, but always customer-centric
Like the wider energy market, the company is constantly evolving, and it has ambitions to give their customers even further autonomy over their energy payment plans. However, despite Yorkshire Energy adding thousands of customers every single month, their values remain at the core of everything:
Damian elaborated on the future of the business: "We have ambitious growth plans, but we'll always put our customers first, rather than growing the business at all costs. We have a responsibility to transform the national energy market and give back to the local community we work in."
With 18 months of using GoCardless under the company's belt, Annie sees the relationship as a competitive advantage:
If a friend asked me, GoCardless would receive an outstanding recommendation."